GUITARS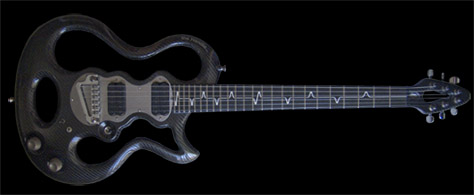 XOX HANDLE GUITAR
This is my newest aquisition and is made by XOX Audio Tools in Italy. This guitar is made of carbon fiber (race car materials) and is superlight. It comes standard with a Dimarzio pickups with a"blend" knob next to the bridge, which I changed to a 3 way selector switch. I also added the 2 mini switches (past the bridge) to give me single coil, series humbucker, or parellel humbucker sounds. Now I can go from country to metal sounds with the flick of a switch! This guitar may be heard on future recordings and on this years Christmas cd.

FENDER 1987 AMERICAN STANDARD STRAT
Ol' Yeller



After "breaking in" this guitar for a friend of mine, I ask him to sell it to me several times to which he replied "Itfs yours to use..I donft want to sell itcIfm gonna paint it blue to match my main Strat! I told him I was gonna buy a blue one and paint it yellow! (this color is no longer a stock Fender color). While playing it at a backyard party/jam, my friend simply walked up to me and tied a blue ribbon around the headstock and stated "Itfs yours to keep. After the way you played it tonight , it would probably run away from home if I took it back." This guitar is completely stock and I love it just the way it came from the factory. This guitar can be heard on Lone Star Guitar, Guitar Freak 1, Guitar Freak 2, and all over Angels Highway. Nick named "Ol Yeller" because the first song I wrote on it was "Pup Fiction" from my Guitar Freak 2 cd.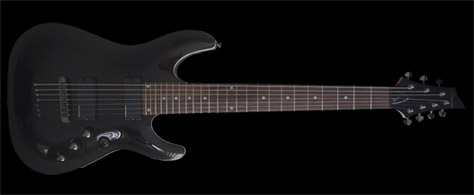 SCHECTER
Because of my love of heavy rock sounds, I needed a 7 string guitar to augment my collection. This is Scheter C7 model with stock Duncan "active" designed pickups. Active pickups bring out a new level of harmonics and having the extra low 7th string allows me to play as mean and nasty as I want to.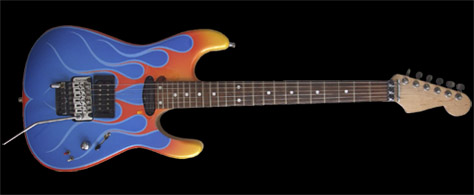 CHARVEL FLAME STRAT STYLE



I bought this guitar at Billyfs Band Aid in Lubbock Texas in 1983. Ifm not sure of the exact year or model, but itfs a very early Charvel from Waynefs first shop. It was used when I got it and came with one pickup, a stock "whammy" and one volume control. Around 1986 I needed more sounds, so I got my router out of the closet and cut a hole for a second pickup and a Floyd Rose whammy. I loaded it up with Seymour Duncanfs (a hot rails in the rhythym and a JB in the lead position). I installed a couple of switches to throw one coil to ground for single coil sounds and more variety of tone. Around 1988 I replaced the 21 fret neck with a 24 fret model, courtesy of guitar tech to the stars ccSammy Sanchez.
.
"SUZI" BLUE IBANEZ RG570



This guitar got me thru the a divorce, 3 bands, and two CDfs. In my quest for bluesy tones, I installed a couple of switches to throw one coil of the stock pickups to ground for single coil sounds and more variety of tone. The red switch is for the lead pickup and the white switch is for the rythym pickup. I switch pickups constantly, so the 5 position selector switch has been replaced more than once. You can hear this guitar on all my cd's.
72 GIBSON SG

My first "good" guitar. I bought this one around 1974 (I had to finance it!).After all these years, itfs still completely stock (except for tuning machines), though I removed the pickup covers and Eric Johnsonfs guitar tech did some grounding work to quiet down the single coil "soapbar" pickups. This guitar has survived countless bands, gigs, girlfriends, and two apartment fires. Nowdays, I use it mostly for slide solos, or maybe a de-tuned crunchy rhythym track.
SQUIRE TELE



Due to my fascination with country guitar shredding and a desire to augment my skills with some twang, I aquired this tele and immediately began to modify it, first with a hipshot B bender and dropped D lever. Next, I installed a Brent Mason model nashville studio (bridge) pickup and a little 59 (neck), both made by Seymour Duncan. Later I replaced the tuning machines with "staggered" post style so I won't have to have a string tree on the headstock. I also installed a Callaham bridge plate with traditional brass bridge saddles. I will replace the volume and tone controls in the near future. The red and black design is not a paint job, but is an aplique' from a company called "facelift". It aplies itself to the guitar finish and may be removed and replaced any time.
DOBRO
When I was a kid, we only had a Dobro, so that's what I learned to play on. I always loved the texture and sound of them. This one is pretty new and was aquired in L.A. at the annual acoustic instrument show from instrument maker and wheeler dealer Loni Specter. This is a square neck model with the "jacked up" nut for playing in the flat lap style. I'm using this guitar for the first time on the new song for this years Christmas cd "Christmas in the Country".

PEDALS

PEDAL 1


My main pedal board is large, but consists of only 6 items. It features the amazing T.C. Electronics gG Systemh(from Denmark). This unit does absolutely everything I can dream up (tremolo, vibrato, flanging, lush chorus, gorgeous reverbs, wahs, doubler, 1, 2, or 3 part harmonizer, univibe, or any combination of those) and itfs stereo! It also has a built in tuner. You will see 3 Visual Sound volume/control pedals which are unique in their row of ledfs on the side which tell you at a glance where the pedal is at on a 1-10 scale (very useful on a dark stage). I have 2 of these in the middle that are assigned to control the depth/speed/intensity parameters of whatever effects are currently engaged. The one next to the G System is also my wah wah pedal.You will also see 1 of these at the far right of my board which I use as my master volume. The G System does not do distortion. After years of looking, listening, (and purchasing) a world of distortion pedals, I discovered the J.T. Pedals (now out of production) Valveboy 2 channel tube distortion. It is hands down, my favorite distortion pedal everc.bar none. I also have a Fulltone O.C.D. (obsessive compulsive distortion) pedal just in case I need it. I sometimes substitute it with the Keely modified Boss DS-1 pedal (the orange one) or another one from my collection.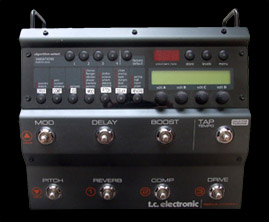 PEDAL 2


I also use the T.C. Electronics Nova system (the g systems little brother) when I need a more compact board for smaller gigs, or church,. The Nova system will do most of the effects that the g system does. Typically I will stick it onto one of several Velcro covered boards that I have and combine it with a control pedal and maybe a wah wah pedal and whatever else I will need that day.



AMPS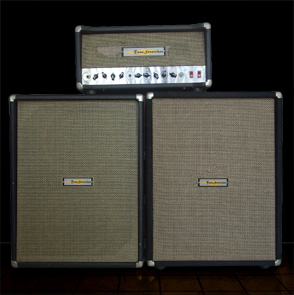 TONESTRTCHER CUSTOM BUILT CA 35 AMPLIFIRE

Built in Van Nuys Ca. by A.R.S. electronics owner Martin Sannet, this is a 2 channel class A 35 watt amp which took about 3 years of "adjustments"to get the way we wanted it. The Tonestretcher has a huge custom transformer which gives it a character all it's own.This is my main amp and can be heard on all my cd's except for Electric Detective (which was a Peavy 5150).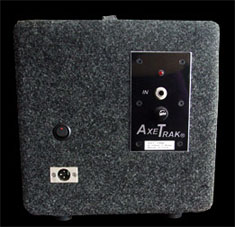 AXE TRACK RECORDING SPEAKER CABINET

I use this recording cabinet frequently when I record at home. It's an isolated speaker and mic built into a small cabinet with an xlr connector and speaker connection on the side. It's almost totaly silent and sounds great.


Copyright 2011 Guitarfreak Contact